Internet
Internet je sve sličniji TV i film stilu...
Biti odabran (znači prodati), na internetu kao i na televiziji znači:
1° 34% dobar prvi utisak (emotivno stereotipni odabir)
2° 33% sadržaj (tehnički),
3° 33% emocije (za izbor)
67% od uspješnosti emotivne prodaje, u jednoj riječi je WOW učinak.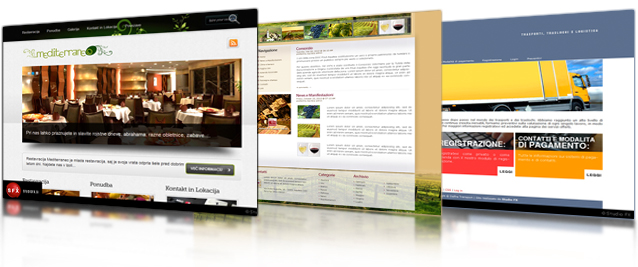 Dugotrajno sjećanje, je je predviđeno poticajem. Bar 4 moždana područja sa slikama: pretjerane, u gibanju, neobične, emocionalne uključenosti. 3D Animacija je rješenje, koje kombinira učinak WOW s vizualnom komunikacijom za početak dugoročnog sjećanja.
Internet trgovina
Globalna rješenja za internet trgovinu.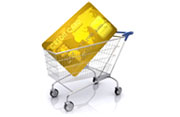 U jedinstvu je snaga, zato s fleksibilnošću i kompatibilnošću naše mreže, osiguravamo globalna rješenja za vaše internet trgovine. Internet trgovine mogu biti jednostavne internetske stranice kreirane u PHP, s elektronskom košaricom, s bazom podataka i administrativnom stranicom administracije. Ili su preko multimedijalnog predstavljanja proizvoda novo iskustvo za kupce.
Dalje se može razvijati s ponudama freemium i premium, upravljanjem neporednim Email Marketingom, Email akcijama i s viralnim videom. Dimenzije naših mrežnih rješenja su u funkciji dimenzije tvog internet poslovanja.
Socijalna mreža
ITo je komunikacija 21. stoljeća. Želite znati, što u biti znači?
Socijalna mreža, je socijalna struktura, sastavljena iz pojedinaca ili organizacija, koje su vezani (povezani) s jednom ili više vrsta međuovisnosti, kao što su prijateljstvo, rodbinstvo, interesi, financijske transakcije, povjerljivih odnosa, znanja ili prestiža.
Kad se radi o socijalnim mrežama, često upotrebljavamo internetske stranice. Te internetske stranice poznate su i kao socijalne stranice. Kad dobijete pristup socijalnim internetskim stranicama možete početi s komunikacijom-druženjem.

Što je blog?
Blog je internetska stranica ili samo njen dio.Tipični blog uključuje riječi, slike, video i linkove do internetskih stranica ili drugih blogova. Blogove uobičajeno održava pojedinac, koji dodaje i upisuje nove informacije (članke, opise, događaje i druge srodne teme, kao što su slike ili video). Argumenti su većinu vremena prikazani u obratnom kronološkom redu. Blog kao glagol znači memorirati ili dodati sadržaj.
Glavne značajke
Blogs have the ability of readers to leave comments in an interactive format. Most of blogs are usually textual, althought there is some focus on art, photography, videos, audio and music. We use both Blogger and WordPress as base, but apply custom design and features to them.
Razvoj programske opreme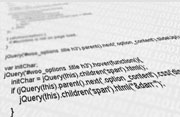 Programiranje je bitna komponenta kod stručnih rješenja za internetske stranice (e-commerce, blog, prezentacije), 3D animaciju i video specijalne efekte.
STUDIO FX razvija rješenja u svim tim ambijentima uporabom najnovije tehnologije. Na taj način osiguravamo svojim klijentima rješenja, koja su na 360° multimedijalna.
Što možemo učiniti?
Razvoj i personalizacija tradicionalnih internetskih stranica ali u flashu.
Razvoj tradicionalne internet trgovine ali u flashu.
Razvoj internetskih stranica u WordPress i Blogger.
Razvoj internetskih stranica u html5.
Razvoj i personalizacija Fans page u FBML na Facebook.
Razvoj i personalizacija Youtube Channel.
Razvoj i personalizacija internetskih stranica za kampanje Email Marketing.
Razvoj virtualnih galerija u flashu za WePad (Tablet PC i Touch screen monitori).
Razvoj Microsite u html ili flash.
Razvoj 3D animacije s Motions Capture u Motion Builder.
Razvoj programske opreme za animacijo animiranih filmova u Maya za video ili flash.
Razvoj specijalnih efekata video u After Effects.
Potreban vam je multimedialni razvoj?
Kontaktiraj nas i osobno provjeri što vam nude rješenja našeg Networka.
Andrej Ratkovcic: Art director

Andrej Ratkovčič begins to deal with drawings in his early youth. After his first computer in 2001, Andrej begins to design with various graphics programs used in the graphic industry such as Photoshop, CorelDraw, and Macromedia Flash. Much interest in this area leads him after several years of active independent learning to 3D modeling, and with programs such as Rhinoceros begins to produce different items and architectures for various clients.
After finishing high school, he starts working with Marko Badovinac, who introduces him to Autodesk Maya, which is one of the most widely used 3D modeling and animation software applications in the entertainment industry today. In 2008, Andrej starts his Motion Capture experiance by acquiring a two-week training of the renowned inventor of Phasespace Motion Capture system.
Actively applying the knowledge gained, in 2009 he visits the largest Technical University in Ankara, Turkey (Middle East Technical University), and gives a special training to a group of people for the Phasespace Motion Capture System and Motion Builder program.
Andrej is now actively using Autodesk Maya and tools like Mudbox, Motion Builder, Photoshop, CorelDraw, Illustrator, Indesign, After Effects, SwishMax etc. with which he pushes his creativity to the limits. Now employed by Studio FX Ltd. as an Art Director, he does 3D modeling, rendering, motion capturing, 3D Animation and develops web pages and various graphic elements.